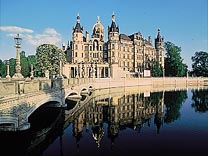 SCHWERIN CASTLE
Began as a Slavic border fortress,then a
German Island fortress for Henry the
Lionheart.

From the 14th century to 1918 was the
residence for the Dukes of the area.
Reconstruction into a castle began in
the 14th century. In the 1800's it
was again remodeled to include
Renaissance styles.

Since 1990 it has been the home of
the State Parliament of Mecklenburg
-Vorpommern.